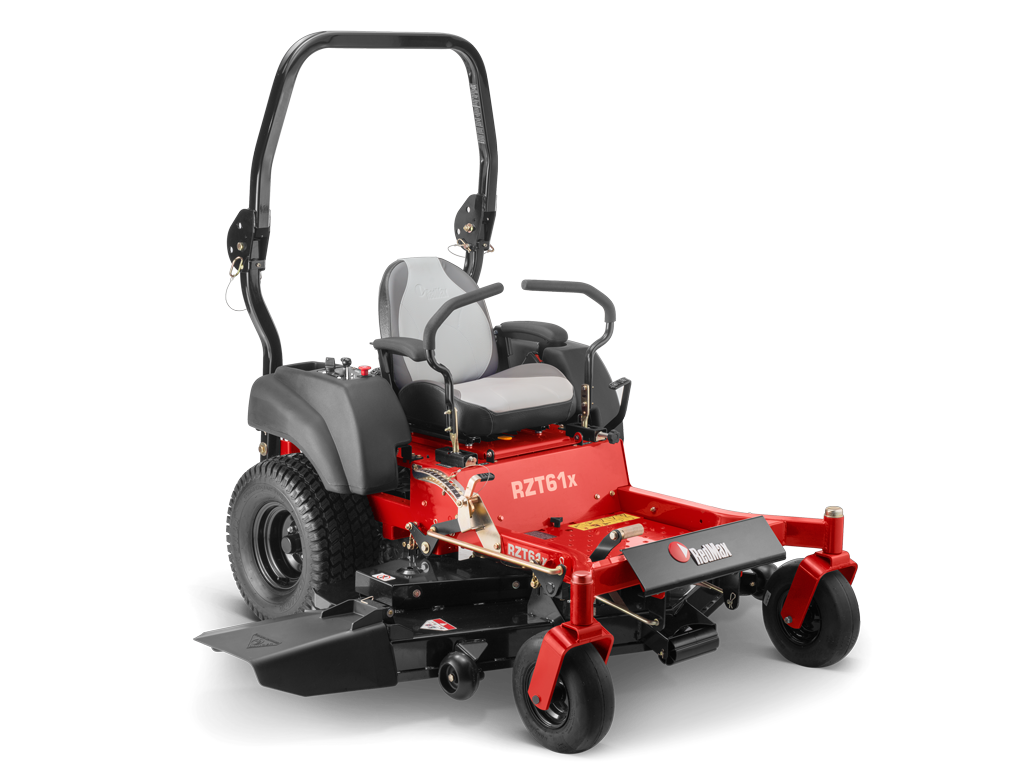 Specifications
*
Model
RZT61x
Engine

Manufacturer

Kawasaki

Name

FR730V

Net Power

24 HP V-Twin

Fuel Volume (L)

19

Drive Line

Transmission Type

ZT-3100 Integrated

Transmission Manufacturer

Hydro-Gear

Speed Forward, Max (km/h)

13

Speed Reverse, Max (km/h)

6

Cutting Deck

Cutting Width (inches)

61

Cut Height, Min - Max (inches)

1.5 - 4.5

Cutting Deck Type / Gauge

Fabricated/11 ga. Steel

Blade Spindle Type

Cast Iron

Other

Seat Type

Vinyl Cushion

Front Tyre Size (inches)

13 x 5 - 6

Rear Tyre Size (inches)

22 x 10 - 10

Productivity, acres/hour (80% Efficiency)

4.2

Warranty

Warranty

4 Years or 400 Hours - 3 Year Engine/2 Year Transmission (engine/transmission covered by respective manufacturer)
* Continuous dedication to improve products requires that specifications and designs are subject to change without notice. All product images shown are for illustration purposes only. All images may not represent the model shown.
RZT61x Zero Turn Mower
Bringing the commercial focus to the farm and large estate, the RZTx is ready to handle the largest landowner's mowing requirements. Developed from the commercial CZT, the RZTx cuts the large weekend chore into a quick operation. A robust engine, drivetrain, deck and components deliver commercial-like capability at home. Perfectly balanced for superior traction, featured with standard roll-over protection and seat belts, difficult terrain is no problem for the landowner. Accessories for mulch and collection make the RZTx the versatile weekend work partner.
Kawasaki engine
Kawasaki engines offer smooth, quiet, reliable power. Heavy-duty components offer long life and electric start is standard.
Zero-turn steering system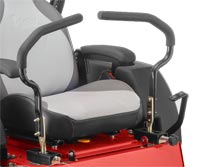 Individual, hydraulic wheel-drive provides very precise maneuvering and allows the mower to rotate around its own axis. The result is increased productivity.
Comfort & Support
The comfortable high back seat features standard arm rests.
Adjustable tracking
The easily accessible adjustment allows fine-tuning of straight line tracking without tools.
Easy-access service points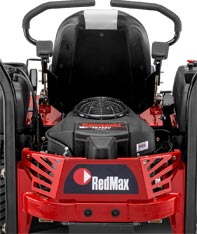 Oil and filter maintenance, hydraulic drive system components/adjustment, electrical system and battery are all within easy reach so you can quickly get back to being productive.
Oversized chassis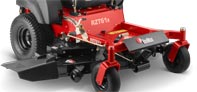 2" x 3" tube chassis combined with large rear and front tires provide superior strength and improved ride quality.
Durable cutting deck
The heavy-duty fabricated cutting deck features twin sheets of 11 gauge steel for added support of spindles and increased overall strength.
Removable foot pan
Removable foot pan for easy access to deck belt pulleys, spindles and clean-up.
Pedal-assisted cutting deck lift
Ergonomically designed deck lifting system offers precise cutting height adjustment. Easy and quick adjustment from the operator's seat.
6-inch Wide Caster Wheels
Durable 6-inch wide front casters with pneumatic tires provide long life and are easy on turf.
Cast Iron Spindle Housings
Greasable rugged cast iron blade housings are built for durability and feature ball bearing spindle support.
Hour meter with service minder
Indicates when it's time to service your zero turn.
Comfortable steering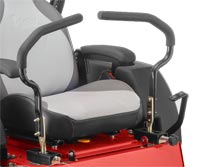 Dual levers with foam-padded hand grips and viscous dampers that reduce vibration, create a comfortable operator experience.