Specifications
*
Model
RZT54
Engine

Manufacturer

Kawasaki

Name

FR730V

Net Power

24 HP V-Twin

Fuel Volume (L)

13

Drive Line

Transmission Type

EZT-2200

Transmission Manufacturer

Hydro-Gear

Speed Forward, Max (km/h)

10

Speed Reverse, Max (km/h)

4.5

Cutting Deck

Cutting Width (inches)

54

Cut Height, Min - Max (inches)

1.5-4.0

Cutting Deck Type / Gauge

Fabricated Clear Cut/10 ga. Steel

Blade Spindle Type

Cast Iron

Other

Seat Type

Vinyl Cushion

Front Tyre Size (inches)

11 x 6 - 5

Rear Tyre Size (inches)

18 x 9.5 - 8

Productivity, acres/hour (80% Efficiency)

2.8

Warranty

Warranty

3 Year Consumer - 3 Year Engine/2 Year Transmission (engine/transmission covered by respective manufacturer)
* Continuous dedication to improve products requires that specifications and designs are subject to change without notice. All product images shown are for illustration purposes only. All images may not represent the model shown.
RZT54 Zero Turn Mower
RedMax allows the homeowner to "mow like a pro" with a residential unit featured like a professional mower. With high performance engines and 10 gauge fabricated decks, the RZTs are up to the task season after season. An 18″ high-back seat keeps the operator extremely comfortable and a tubular frame assures long term durability. Easy to service, easy to operate and designed for the long haul, the RZT provides satisfaction year after year. Easily accessorized for your specific mowing needs, the RZT is ready for any mowing requirements.
Kawasaki engine
Kawasaki engines offer smooth, quiet, reliable power. Heavy-duty components offer long life and electric start is standard.
Zero-turn steering system
Individual, hydraulic wheel-drive provides very precise maneuvering and allows the mower to rotate around its own axis. The result is increased productivity.
Rugged frame and casters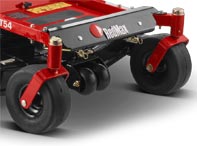 The robust frame and casters ensure durability and reduced chassis flex.
Ergonomic control panel
The ergonomic control panel places everything conveniently at your fingertips.
Anti-slip foot area

The footrest area incorporates generous non-slip surfaces for safe and comfortable use.
Removable foot pan
Removable foot pan for easy access to deck belt pulleys, spindles and clean-up.
Cast Iron Spindle Housings
Rugged cast iron blade housings are built for durability and feature ball bearing spindle support.