Specifications
*
Model
GT2454F
Engine

Manufacturer

Kawasaki

Name

FR 730V

Net Power

24 HP V-Twin

Fuel Volume (L)

15

Drive Line

Transmission Type

K66ELD (Hydrostatic Electric/switched rear diff lock)

Transmission Manufacturer

Tuff Torq

Speed Forward, Max (km/h)

12

Cutting Deck

Cutting Width (inches)

54

Cut Height, Min - Max (inches)

1.5 - 4

Cutting Deck Type / Gauge

Fabricated Clear Cut/10 ga Steel

Blade Spindle Type

Cast Iron

Other

Seat Type

Premium

Front Tyre Size (inches)

16.5 / 6.5

Rear Tyre Size (inches)

23 x 10.5 - 12

Warranty

Warranty

3 Year Consumer3 Year Consumer - 3 Year Engine/2 Year Transmission (engine/transmission covered by respective manufacturer)
* Continuous dedication to improve products requires that specifications and designs are subject to change without notice. All product images shown are for illustration purposes only. All images may not represent the model shown.
GT2454F Riding Lawn Mower
This garden tractor will be your garden workhorse. With that large Fabricated High Performance cutting deck, Heavy Duty Differential Lock Transmission and Kawasaki V-twin engine, it will not shy away from any task you might be facing, It will help you carry them out fast. Add an easy to install bagger or mulch kit for added versatility.
Kawasaki engine
Kawasaki engines offer smooth, quiet, reliable power. Heavy-duty components offer long life and electric start is standard.
Hydrostatic differential lock transmission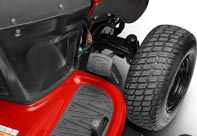 The pedal operated hydrostatic transmission offers a smooth, variable forward and reverse speed while the electric/switched locking rear differential increases traction while cutting on slopes or wet grass.
Electric blade engagement
Easy engagement of cutting blades, simply pull the switch on the control panel.
Cast iron front axle
Heavy cast iron front axle provides superior balance and stability, even with a collector.
Fabricated high performance cutting deck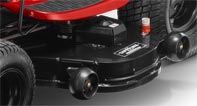 The new fabricated design features welded 10 gauge steel construction with additional welded reinforcement strips for maximum durability.
Hour meter with service indicator
Indicates when it's time to service your mower.
Cruise control
Allows the tractor to maintain consistent speed, even in rough terrain.
Brushguard bumper
Tough, rugged looking brushguard bumper protects the hood of the tractor.
Wide premium rear tires
Wide premium tires provide a smoother, more comfortable ride and less turf compaction
Cast Iron Spindle Housings
Greasable rugged cast iron blade housings are built for durability and feature ball bearing spindle support.
Hour meter with service minder
Indicates when it's time to service your zero turn.
Large fuel tank with easy access fuel cap, sight gauge and reserve
Refueling of the large fuel tank is easily done as it doesn't require engine hood to be opened.
Extra robust steel chassis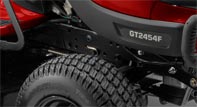 Built on a extra robust steel chassis, ensuring maximum durability and sturdiness.
Premium seat with armrests and extra high back
Comfortable Premium seat with extra high back and armrests. The seat is self-draining and can be tipped to protect it from rain.